Balloonist Dream-of-a-Lifetime
---
The Debbie Swing Story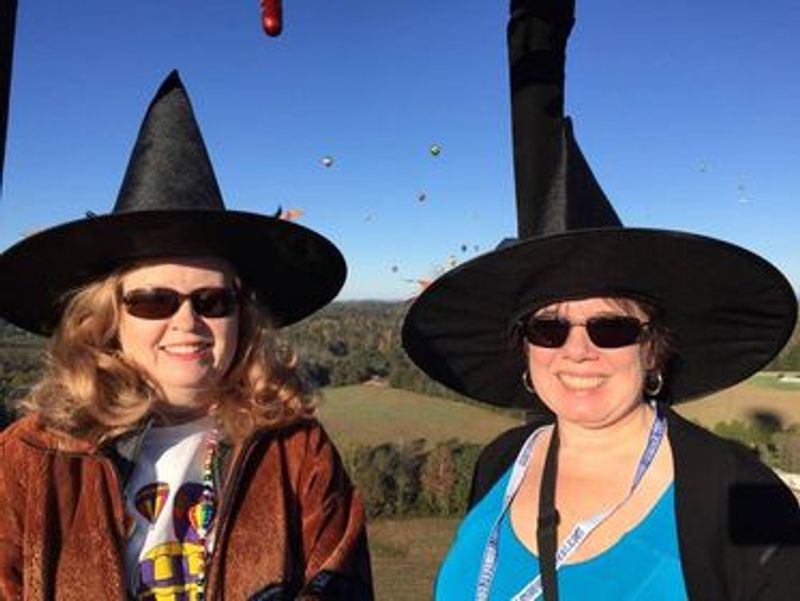 Debbie Swing retired in 2019, but unlike many, her dream-of-a-lifetime continues to keep her busy! "I saw a balloon flying the summer I turned 41," Debbie shared, "I went to Statesville's famous balloon rally that fall and learned that if you volunteered to crew for one of the pilots, you could get up close and personal, not held back behind the rope. The Chamber was training crew, so call the Chamber got on my list. My first assignment was with Mr. Biddle, a 105-foot-tall Teddy bear. The pilot asked if I wanted a ride—I got in the basket before he changed his mind. By the end of the flight, I was hooked!"
For the next 12 years, Debbie crewed as much as possible, hoping for another free ride. They were few and far between. But Debbie and girlfriend Kim McKinney went to rallies and learned the ropes of balloon festivalling. They helped with pilot registration, FAA compliance, scoring, and other duties as assigned. "Pilots Tom Roush and Roy Smith knew I wanted to get my pilot's license, so they made it a priority to let me and Kim fly as much as possible at the rallies."
From a Wannabe to a Pilot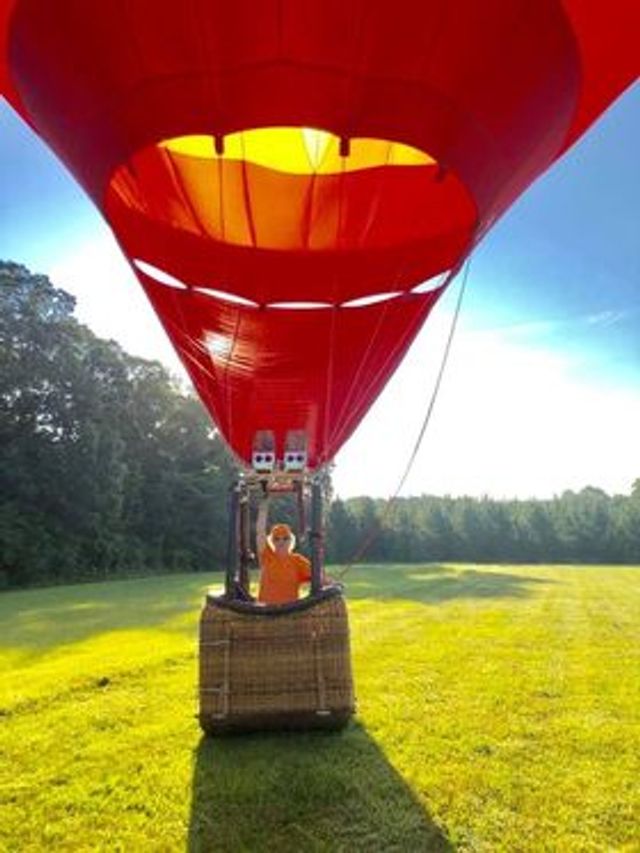 Back in Statesville, Debbie volunteered at Carolinas Balloon Association's safety seminar each winter where pilots get continuing education in the off season. "I'd sit at the registration desk and try to listen in. One year, my seat wasn't close enough to hear, so I started actually paying to attend so I could absorb all that important stuff pilots need to know," Debbie said. "I still didn't own a balloon myself, but I wanted to learn everything about them. And safety seemed really important!"
Debbie's PILOT WANNABE tee shirt was noticed by several pilots, and they helped move her forward with lessons. That encouragement kept her dream alive. "In 2013, one of the prettiest balloons I'd ever seen was for sale," Debbie remembered. "Kim told me about it—she knew if I bought a balloon, she'd get to fly more, of course. So I asked God to give me a sign if this balloon was meant for me. The next day a reimbursement check arrived. It was exactly, TO THE PENNY, the amount of money I needed to buy that balloon. I met up with pilot Paul Morlock…took my checkbook…and the rest is history!"
The Perfect Crew Chief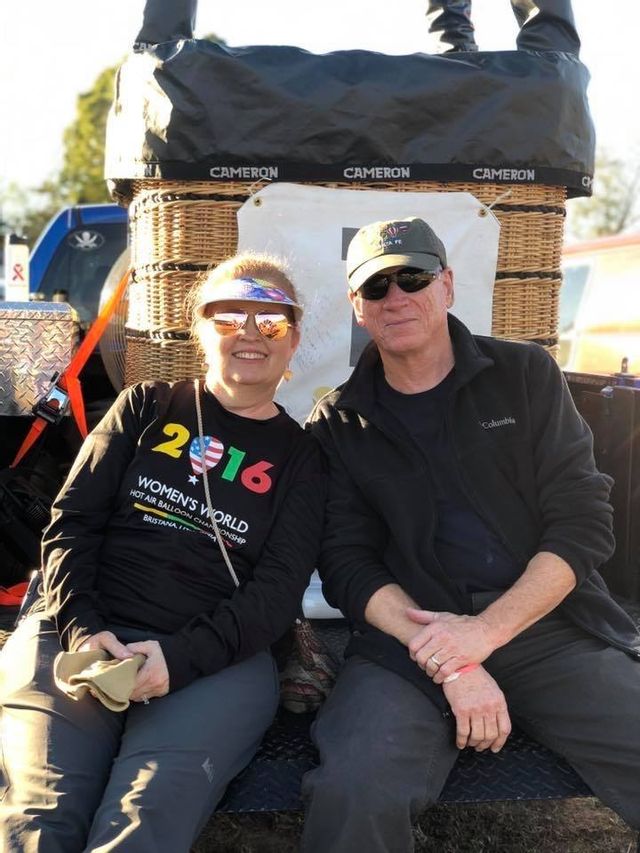 Two weeks later Debbie married the guy who became her crew chief! Tommy Swing loves to chase balloons. He was in law enforcement for 30 years, he's hung out an open helicopter door, and has no desire to fly balloons…the perfect crew chief!
With crew chief in hand, and after many hours of studying, flying, bartering use of her balloon for training with her instructor Drew Egerton in Statesville, instruction with Elizabeth Wright-Smith in Albuquerque, Debbie finally soloed in June, 2016. She earned her private pilot license that October. "My first passenger was Kim. My dream came full circle with Kim. I couldn't have done this without her."
The Second Wind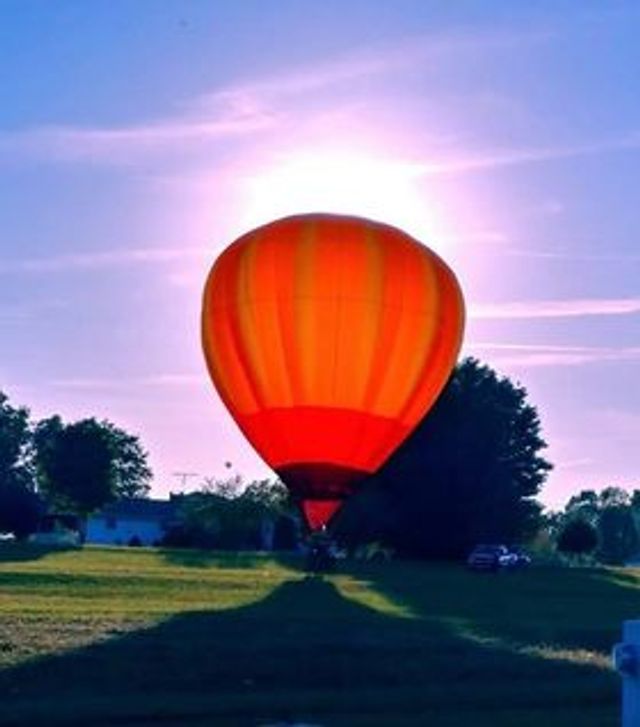 These days, Debbie flies Second Wind, a beautiful red, orange, and yellow Cameron you may have seen flying around Statesville last weekend when a dozen pilots celebrated Carolina BalloonFest weekend without the Fest part. She's currently working on her commercial license. "I probably won't open a balloon ride business, but I want the challenge of reaching that higher level of piloting. Debbie has stayed involved with Carolina BalloonFest, and she currently serves on Carolina Balloon Association's board of directors.
"Right now, my balloon is packed in The Aircraft Carrier, our pickup," Debbie smiled. "It's a beautiful day but too windy for flying. Maybe I'll have better luck this afternoon or tomorrow…either way, I have no regrets about choosing this hobby. It's the perfect combination of adrenalin and serenity."